The Resurrection-Icon-Art-Quilt-Banner was made for Easter Vigil 2019 at St. Aidans Anglican Church. Contributors to its creation were Ted Bertram, Georgia Wyse, Liz Flowers, Caroline Colby, Hannah Smith, Isaiah Powers, Anita Powers and Erica from Fabric Recycles in Overland Park,. It is considered a quilt because it is made of fabric with 3 layers (at least), a backing fabric, fiber fill in the middle and top fabric. The top back ground is fused 100 cotton fabric and stitched by machine, (APQS long arm and Bernina home). The iconic figure of Jesus was quilted separately and applied last. The banner is 10 feet tall and 45 inches wide.
The idea for the 2018 Easter painting came from paintings I was making in the 1990s. I call these works 'pour paintings."
Objects are placed on a canvas using a circular motif. Underpainting on the canvas is done with light bright colors. For the Easter painting I thought of a Celtic cross design. The weight of the objects causes the canvas to dip in the middle. Then very thinned down oil paint is poured in concentric rings
over the canvas and objects. The oil paint separates from the mineral spirits causing electrical like lines to appear. The process uses gravity so the weight of the paint makes it flow towards the center of the canvas. This process makes a "print' of the objects on the canvas. Before the paint is dry the objects are taken off the canvas. Blessings, Nick Gadbois.
By Ted Bertram for Easter Vigil 2018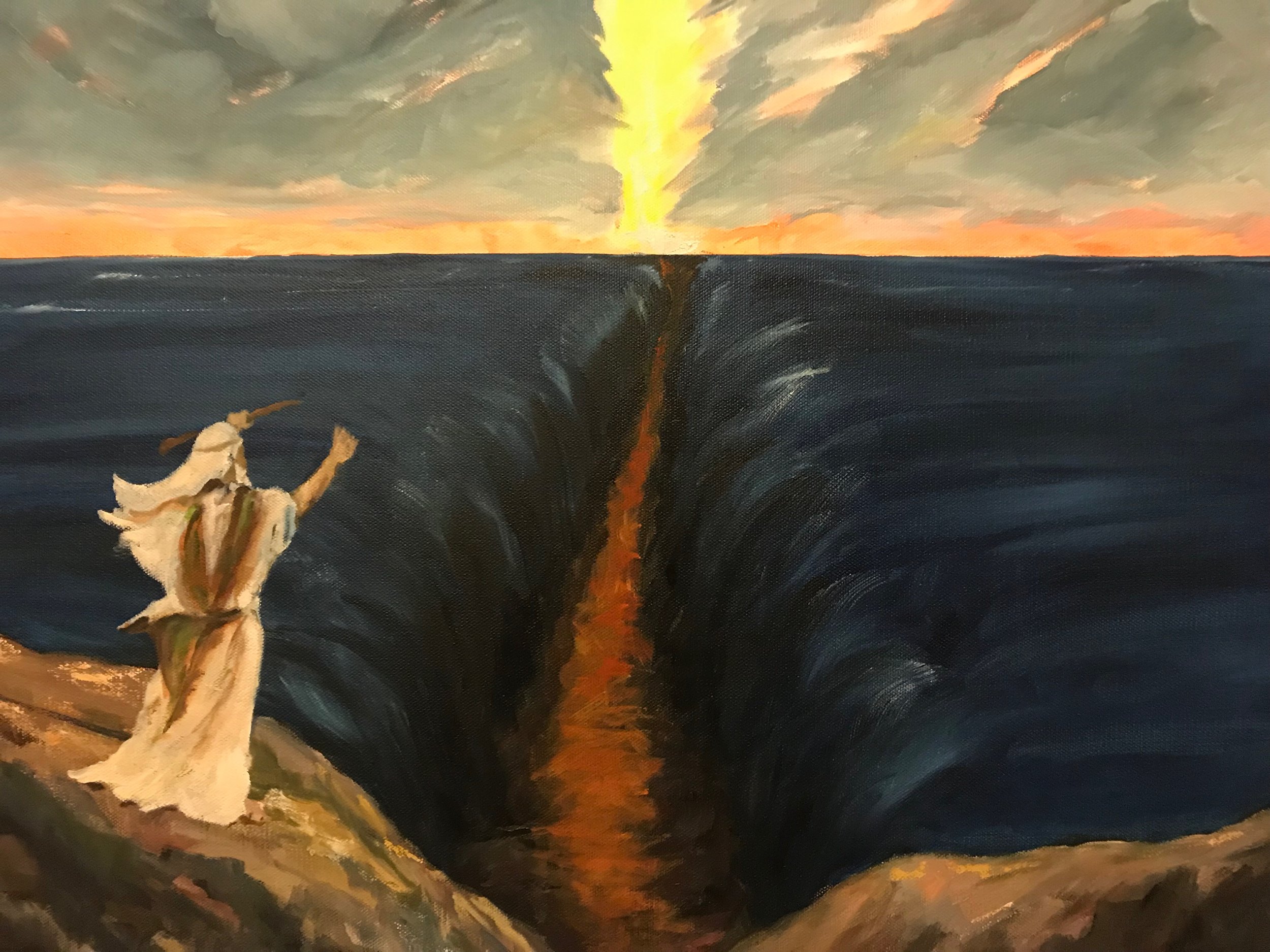 By Ted Bertram for Easter Vigil 2018
Nine artists came together to contribute one of nine pieces to complete the crucifixion with the three thieves. Carrying our cross involves others, whether similar to Simon of Cyrene, carrying Jesus' cross or in company with the thief promised to be with Jesus in paradise - 4 x 5 ft.
The first Easter Vigil project, conceived around the nine readings in the Story of Redemption, Book of Common Prayer. As each passage was read, a piece of the painting was brought to the stand until the completion of the nine readings, just prior to the first shout of Alleluia, Christ is risen! Nine artists worked from an outline drawing and filled in the section with paint and mixed mediums - 4 x 5 ft.
Floral portraits by Laura Lloyd
Flowers are unmistakably attractive to most people. Their shape, color, scent and fragility give them a special power. It is no surprise that I find myself making photographs in which flowers play a prominent role. I look at them in awe. They are an unmitigated gift of creation. At the same time, I have become interested in their symbolic meaning from a Christian perspective. Exploring flowers and their special significance to believers through the centuries—especially in relation to Mary, the mother of Jesus—has helped me get a feeling for the sweet time I associate with the Middle Ages, when the Church was everywhere and the seasons of the year were tied closely to the spiritual calendar.
These photos are of roses, which, according to the University of Dayton, a Catholic college, were designated centuries ago as the symbol of the "Blessed Virgin of prophecy". Other flowers and plants were traditionally seen embodying other elements of Mary. I am attracted to the imagery of the rose because it hints at a woman who was not simply acquiescing to the will of God, important as that was. She was someone who was also swept up in the miracle of Jesus Christ, like the apostles and other believers throughout history.
St. Aidan, Bishop of Lindisfarne 651 A.D.
By Scott Laumann, commissioned by Paul Flotho.
Poems for the Lenten Season
Coffin
"Remember you are dust
and to dust you shall return."
An exhaled breath
I wait for you,
wasping through air
thicker than my skin.
-Suspended-
in a womb soaked
in darkness,
stained,
drenching these
difficult
wings.
Incarnation
The places we inhabit have this way
Of echoing the stories that we tell
And dare not tell, reflections of the
Thousand little darks that in us dwell.
Transcendent God, you gathered into flesh,
Grew heavy, human bones, and fragile skin,
You entered in. You crossed our darkened thresholds
To linger in each wilderness within.
Abundant God, you chose our desolation,
Refusing bread of ease and fleeting taste,
You bore our emptiness within your body,
Thus preparing bread of life from waste.
King of Heaven, you renounced your throne;
To your father's will alone, you bowed your head,
That you might raise the head of ravaged Eden,
That Heaven and Earth might wondrously be wed.
Your love now gathers in these little rooms,
New stories echo from this shadowed place,
Kaleidoscope of radiant hope flung high,
The spreading, fluid pattern of your grace.
_________________________________
Holy Water
The water always forgets
the wounds we inflict.
After we plunge our hard bodies,
like stones, or earnest daggers
into the supple flesh of the lake,
we watch its skin heal
over the imprint of our bones.
Patiently it absorbs the violent
onslaught of our rough-hewn selves.
Protectively it covers and cleanses us.
Little do we deserve its blessing.
__________________________________

Eastertide in the Ashes of Notre Dame

When even our most fervent offerings fall
A heap of ash. When each majestic stone
And jewel of glass, once fashioned so to call
You nigh, gives way and we are left alone,
Or so we fear. When unbelief and hate,
Flippant destruction and unrelenting strife
Would crush us tomb-like, yet for you we wait.
To dry bones you have promised breath of life.
And though your living temple's blood we spilt,
Yet we could not dismay you with a tomb;
In three short days this temple you rebuilt.
In human flesh you made eternal home.
Thus to Easter's promise now we cling.
May hope of new creation bravely ring!
___________________________________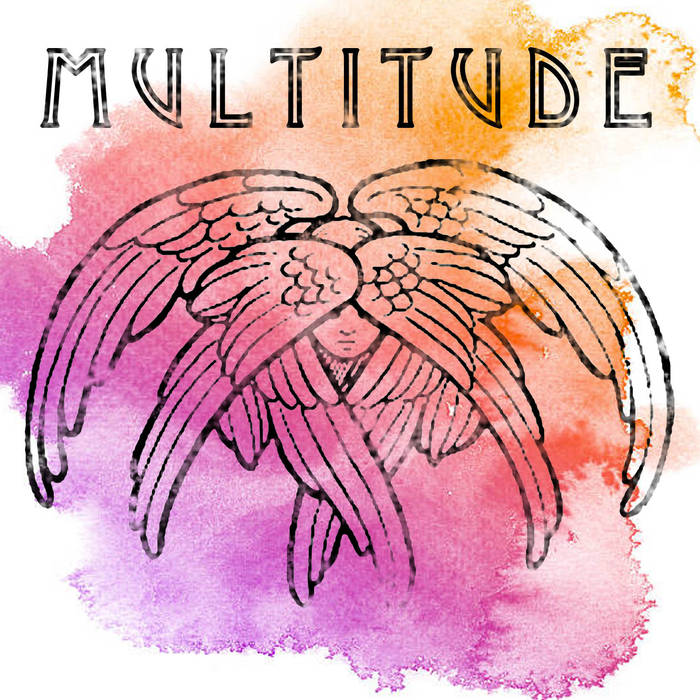 The songs were written at St. Aidan's Anglican Church in Kansas City, MO. They were recorded and made available for the use of the church. We hope these time-honored words put to fresh melody and expression can be a blessing to the body of Christ.

Stream or purchase this worship project here on bandcamp.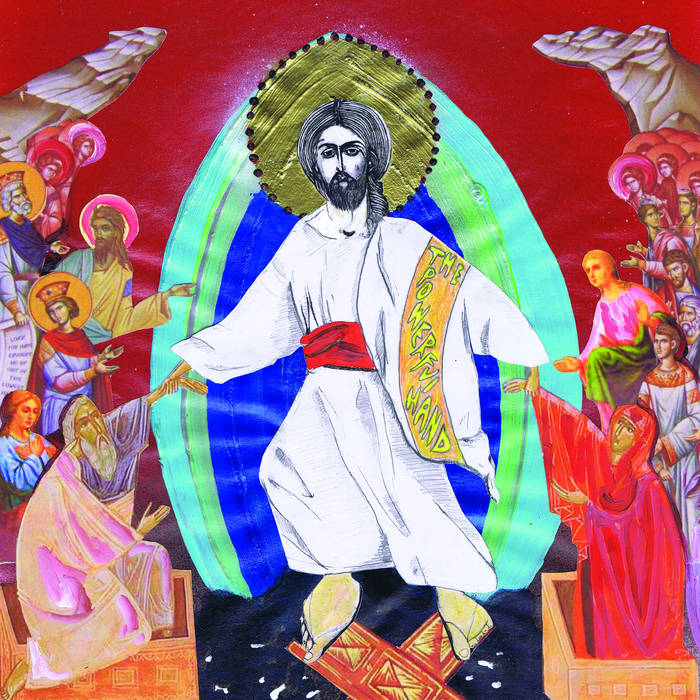 Derek Neufeld's First Worship Project 2012

The record seeks to give a current voice to an ancient, never-ending dialogue between humanity and deity. The sounds find a handful of friends in a room, sonically grappling with their lives and relationships, and finding a place of relief amidst music and fellowship.

The Powerful Hand's first collection of songs, rather than carrying a message to the listener, shares an honest, vulnerable address to a God that is always present, but doesn't always seem to be. The record, like many ancient texts, poems, and spiritual writings, moves through certain motions of the soul in a sort of psalmic prayer. Track-by-track, this record acknowledges who God is, asks for intervention in trauma and strife, calls upon his grace in our lowly state, comes to rest in his presence, and finally looks forward with hope to a time when present conflicts and strife cease and peace becomes consummate.

Click here for bandcamp streaming and purchase.
Michael Flowers with Chris Janzen
Before moving to Kansas City, Michael recorded Identified in his recording studio in Alamo, CA (San Francisco East Bay). Various friends joined him on this project, including bassist, Stuart Hamm (Joe Satriani, Eric Johnson, Steve Vai, David Lee Roth Band, etc.), drummer, Atma Anur and producer / songwriter, Mike Busbee.

Listen and Purchase on Apple Music here